KEEPING THE GREEDHEADS OUT
WITH GEORGE STRANAHAN
I DIDN'T WANT TO BE A LAND BARON. SO I DEVELOPED THIS LAND-USE MODEL WHERE ANYBODY THAT CRAIG AND I LIKED, COULD COME OUT HERE AND PICK THEM PLACE TO LIVE. THEN WE WOULD WORK OUT A REASONABLE PRICE.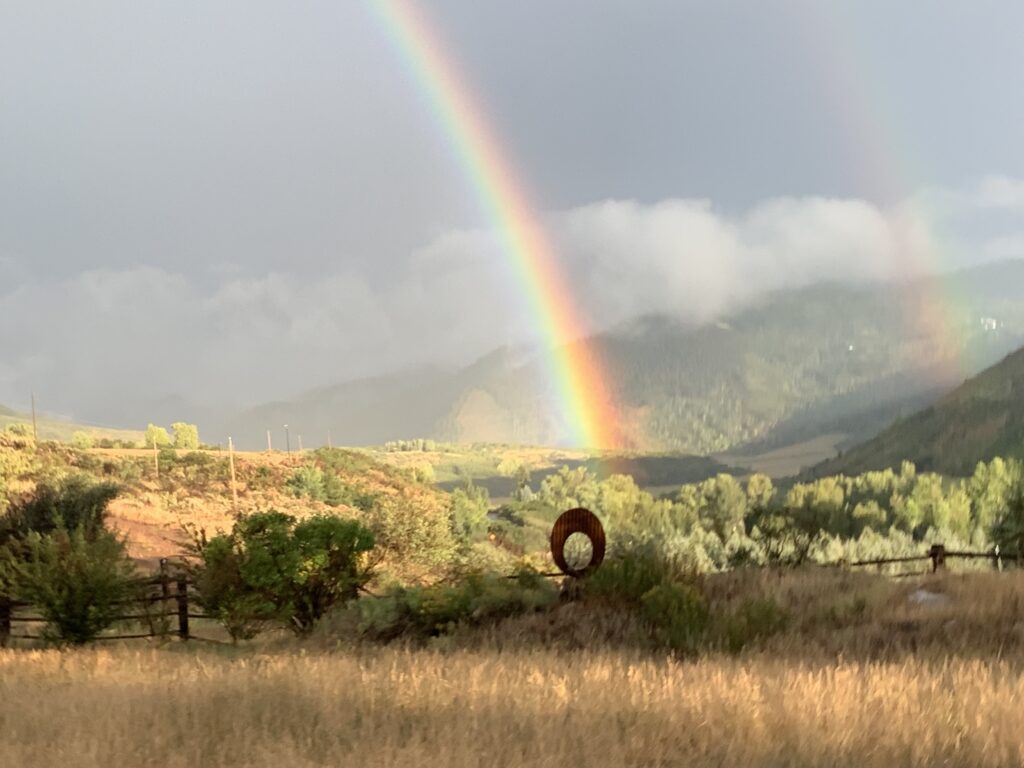 WOODY CREEKER: We have so many questions to ask you, but one thing we didn't want to miss is the story of how the Owl Farm & Stranahan land transfer took place. This is a real Woody Creek land deal.
GEORGE STRANAHAN: Of course: once it's recorded, it's the truth.
WCR: Yes.
GS: Any lapses of memory are not lapses of memory.
WCR: That's what this magazine is all about. We're not changing our world, we are just recording it.
GS: What happened was that in the mid sixties, Bob Craig and I had started the Aspen Center for Physics. He married Carol Gailun, so he became a Woody Creature, except that he was maintaining an apartment in town. Cyrano de Bergerac, or hose nose-he was rather fond of the ladies; sometimes he spent several nights in town, instead of coming out to the ranch. Which is how he met Hunter, because Hunter had the apartment above him. Craig and Hunter got along famously. Hunter would smoke a joint in the hallway, and Bob thought it was really cool. At the time, Owl Farm, and where Compass School is now, and places like it were coming up for sale. Craig would go around and say, "Well neighbor, I'm sorry you're leaving, but I thought we were going to preserve Woody Creek.
And if you give us a reasonable deal, we can buy your place and it will be preserved, instead of developed. Craig came to Owl Farm when it was owned by Ann Owsley's parents, the Sandersens. They were selling out, along with the Halloways. When something would come up for sale, Bob Craig would go and buy it with my money. So, the winter of 1968, Craig writes me at Purdue: 'We got the Sandersen place-how about we rent it to this guy Hunter? I just met him. He's a writer who just came from California. He's a nice guy, we smoke dope together," et cetera. So I said, "Of course, let's rent it out." I'd asked Craig what I was going to do with all this l_and-I only wanted a place to live. I didn't need a lot of land. I didn't want to be a land baron. So I started developing this sort of land-use model where anybody that Craig and I liked could come out here and go over the land that we no now owned, and pick their place to live. They would say they liked a certain spot, for in-stance; then we would work something that was a reasonable price. And everyone in the neighborhood had a blackball.
WCR: Interesting.
GS: If you could pick a place that wasn't black-balled, you could build there. If a neighbor didn't like a spot where a house was going to be built-like "No, I don't want to see your lights at night, no, not there"-that's a blackball. So, the potential neighbor had to find an-other spot to live. With this system, we wouldn't have to divide it all up and make subdivisions. You would just say, '"This is my place," and everybody is happy. That was my Utopian Land- Use model.
WCR: No fences.
GS: That's right. We all negotiated everybody's life. I didn't want to have land, but I enjoyed having the neighbors.
WCR: Yes.
GS: At the time, the land that was to become Owl Farm was 140 acres. I had paid roughly $450 per acre back then, so it was worth roughly about $100,000. And Hunter couldn't pay that.
WCR: Goes without saying …
GS: So, we figured about a fifteen year mortgage on HALF of the value which would have been about $55,000 would come to about $375 dollars a month. "Hunter, can you pay that?" (pause) .. So, we struck a bargain. $375 a month for 140 acres with 2 cabins. Actually, even then, it was HALF price. Then, to be a smart ass for a year or so, he would actually make SOME payments. Sandy signed the checks. If there was no check that month, there would be a little note from Hunter to replace the check. Memorabilia which I never saved.
WCR: don't worry, he did.
GS: I left the university in April of 1972 forever. Came here forever. It was about then that Hunter said, "Look, I hate NOT PAYING you rent, and I hate PAYING you rent. .. So, if we could make it so that when I DO pay you rent it is actually for purchase, instead of rent. Then, I would feel better." And, I thought well, I'm really not getting much money from this anyway but I didn't really buy it to get money. I had the Utopia in mind. So, I say "okay. But look, Hunter, even if you do pay me $375 a month, you are buying it at half. That's what we agreed upon in the beginning. So, I want a right of first refusal if you should ever sell it, I will have the right of first refusal to buy it at half price of ·whatever it is then. " And I thought, man, that's a smart thing to do. So that was our agreement.
WCR: Were you banking on him selling it?
GS: NO … the thing was … If you were going to be part of this Utopia, meaning, you're getting a place, you don't have to pay much for it, we are really doing it because we like each other…. YOU CAN'T BE IN THE REAL ESTATE BUSINESS.
WCR: Exactly.
GS: You can't be thinking: how do I flip my house for the most money. And, the answer was, YOU CAN'T. I said, I will buy it at half price. You're not going to go out and make a profit on your land. So, don't even think about it. I didn't want anybody to even THINK about it.
WCR: You were trying to keep the greed-heads out of Woody Creek.
GS: Yes, that's really what it was. You're not going to be tempted to sell out for a lot of money and go someplace else. Because you can't. Then the downfall began I can't remember exactly what year, but Hunter had an unpaid tax bill, and the feds were going to come and put a lien on the place. And, he wasn't paying for it very much anyway. When he QUIT paying altogether.. I said "Hunter, you quit paying!" and he said, '"Well, yeah, what are you going to do about it? Foreclose on me?"
WCR: Hunter!!!
GS: He said "well, if you want to do that, I can go out and borrow money to pay you off, because the land has appreciated so much." So, I don't have to pay you, and if you want to fool around with that, then it's easy to solve." And I said, "well, you're right." Well, he needed the $375 a month. Anyway, he had a tax bill. Attorney and friend Joe Edwards came to me and said, 'The only asset Hunter has to sell is his land, and you have this first right of refusal to buy this land. So, I bought back about 25 acres up the hill .
We both trusted Joe. So, I said, "Go ahead, Joe. Set it up ." Then, he gets an appraisal, to buy the acreage for about $350,000. But actually, I buy just enough so that he gets enough money to cover the IRS bill. So, I ended up with a note to Hunter and actually sending him a check for $1500 a month until I paid off the portion of land I bought back from him.
WCR: (Laughter and shock)
GS: So, not only was he not paying me back the $375 a month, but I was paying him $1500 a month to get him out of tax trouble and I did.
WCR: So, it was definitely a Utopia, but you wonder for whom!
GS: Hunter would make it straight up: "I don't have any money and you do …What's fair?" (pause) BECAUSE IT WASN'T ABOUT THE MONEY·. It was
about his debt. Could I bail him out of tax trouble, well, yes I could. It wasn't going to make me broke. BUT … Then they get divorced. Sandy comes to me and says, "the only asset Hunter has is Owl Farm, and I have half of that, and I don't want to live next to the fucker." She asked me if I'd trade some of the land I will get from Hunter for some of my other land elsewhere, like at my school. So, I said, "well, sure … sure … " So, we do that. I traded her about 10 acres for 10 acres by the school. But, I tell her the same thing, "look, Hunter got the land at half price, therefore you got it at-half price, therefore, I'm trading you real land, so if you ever sell it, I get the first right of refusal to buy it at half price.
I don't want to get burned. You cannot sell it for at least 5 years." (because I didn't want her to be in the real estate business either). So that's
when she fell in love with a New Zealander in a big boat, and they were going to park the boat in Turkey and open a coffee shop.
And I thought "how is she going to do that unless she sells the land?" Right after she bought the land, she comes to me and says "I gotta have some money so I can go to Turkey in this boat. … So would you buy the land
back?" I say.. "Okay, Sandy, I'll buy the land." But I put the land in Patti's
name. So now,I was sending a check for S1500 a month to Sandy, and $1500 a month to Hunter for the land that neither of them ever bought.
WCR: What a country.
GS: Because I was so damn smart that I had to put this right of first refusal at half price. How could I not buy something at half price?
WCR: What a bargain!
GS: Yeah, what a bargain. (shock and laughter)
GS: So, that was the deal.
WCR: So that ,vent on for many years. Did you actually write checks,
or did you send little notes explaining why you couldn't send the money that month?
GS: No, actually, I went to my bank, and told them to transfer money to
Hunter and Sandy every month. Something like that, it's best if you don't remind yourself of every month.
WCR: Well, that's a bizarre form of Communism. Hunter's philosophy that
you had money and he doesn't therefore, you should pay it.
GS: Well. Let's just imagine that you're going on a picnic. Some people
have more and some people have less. I'll bring the wine you bring the hot-dogs, etc.. Whatever it is, it wouldn't have mattered.
WCR: We do know that Hunter was not in the business of getting rich. Obviously. I would guess that if he had the money, he would have given it to you.
GS: Oh, absolutely. For him to give it to me would have been a hardship literally a hardship. But it was not a hardship for me not to get it. He knew that and I knew that.
WCR: Do you think Hunter's living here enhanced the Utopia that you were
creating?
GS: One of the things that Hunter established in Woody Creek (which is
still a little bit of a Utopia) is that you can be as weird as you want in Woody Creek and you will be as accepted as a straight person. And we've ended up with quite a few reasonably weird people, and straight people too. And I think he really established that characteristic. The End
–PART 1 –