P.J. O'ROURKE INTERVIEWS HUNTER S. THOMPSON
A few days after the birth of this magazine, a huge box arrived with hundreds of pages of transcripts and photocopies P.J. O'Rourke interviewing Hunter S. Thompson, along with this following letter.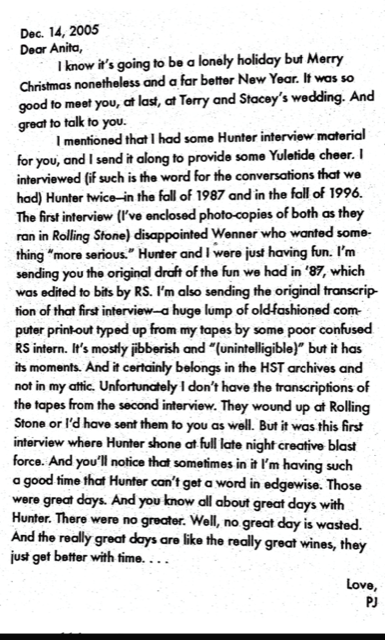 INTERVIEW WITH HUNTER S. THOMPSON JULY 14-16, 1987 [Squealing brakes, sound of a rented Cadillac arriving sideways on a gravel road, persistent ding-dong from automotive device warning that door is open and key has been left in ignition, shrieking peacocks, rattling bottles, ice cubes spilling out of refrigerator freezer compartment, a piece of furniture is over-turned, swilling and gurgling noises]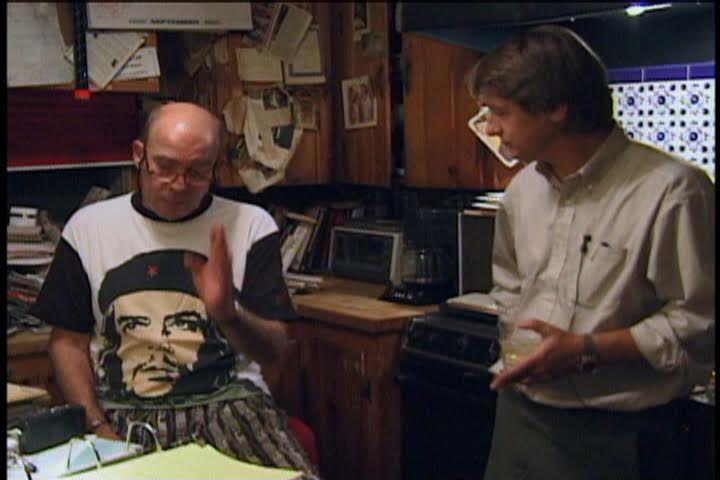 P.J. O'ROURKE: The first thing I want to deal with is this lie you've been living about all this alcohol and drugs and guns and shit. Because I've been up here at your ashram for the past two days . . .
HUNTER S. THOMPSON: [peeved] Ashram? No, i'd hate to have you call it that. This is just a log cabin. I'm a hill billy.
PJ: [insisting] We've been drinking all this Mu tea and eating yogurt and tofu . . .
HST: [becoming angry] No, please don't, really. Somebody's going to hear this tape. [shouting] WHAT, ARE WE GOING TO DENY THAT WE EAT AND DRINK!?
PJ: [abashed] We can if we want.
HST: Why don't we err on the side of excess? Yeah, I cant go with the ashram and the tea. There's half a bottle of 114 proof green chartreuse around here someplace. [Things falling out of a cupboard]
PJ: Let me have some of that. [slurping] Oh, Jesus Christ! Oh, fuck! Oh, God! This is . . .
HST: . . . green chartreuse! The nectar of the gods! It might be the ugliest thing . . .
PJ: Can I go outside and fuck the peacocks?
HST: You drink off that bottle and you will.
PJ: I'll only fuck the girl ones. I mean, theres nothing, you know, weird about me.
HST: We could shoot it with a syringe. I mean, shoot it directly into the belly. [rummaging] Here's a needle. What is it, about eighteen inches long?
PJ: This is the kind of thing that's normally used for. . .
HST: . . .spinal taps. How much can we get in there?
PJ: 50 cc's, two ounces.
HST: Well, a pint is sixteen ounces. I'm dissapointed it's only two ounces.
PJ: We need a syringe the size of a highball glass. What happened to your friend with all the dynamite?
HST: George [Stranahan] is about two minutes away from here, up the road. His wife is gone. He's pissed-off and crazy.
PJ: Think we should go up the road and see him?
HST: Oh, yessssss, you bet we should.
PJ: Yes, let's go up and see him. Then we can get a really great explosion on the tape.
HST: Yeah, [pause, more slurping]. I'm a great fan of reality.
PJ: Well, it's all right as far as it goes.
HST: Truth is easier.
PJ: Than making up stuff?
HST: Yeah.
PJ: I suppose it is, how do you say, more truthful.
HST: And weirder. And funnier. Not all the time, but you can fall back on the truth. You can't fall back on a story you made up beavsue, by the time you've done it, you're starting to wonder if it is good, or funny, or right. But if it's the fucking truth . . .
PJ: . . . it is the truth.
HST: Yeah. And that's why I like it. I'm lazy. [Begins shouting at an imaginary editor] WHADDAYA MEAN, YOU? WHAT ARE YOU BITCHING ABOUT, YOU FUCKING WATERHEAD? WHADDAYA MEAN THAT WAS DULL? THAT'S WHAT THE MAN SAID! . . .
PJ: . . . You can safely embroider upon it.
HST: Exactly. If you don't have it down from the beginning, then you're just putting on a weird dance.
PJ: I give you this quote from Yeats, "Fable makes all things perfect of their kind." . . .
HST: . . . If it doesn't work, man, it's horrible. [long series of small squeakings noises]
HST: Are you recording me mopping the floor?
PJ: That chartreuse stuff really gets sticky when you spit it all over the room, huh? I've been and admirer of your housecleaning, er, housekeeping for a long time.
HST: Yeah, cleaning would be the wrong word.
PJ: Years ago I was up here and you were doing this shopping list concrete. You remember that? [aside into microphone] Hunter had this huge box in the kitchen and whenever anything was used up he'd throw it in there – empty coffee cans, toilet paper rolls, cornflake boxes, whatever. And when the box was full, he'd take it down to the Woody Creek Store and dump it on the check-out counter. And they'd match up all the used stuff with newgs.
HST: List concrete? I still do it.
PJ: Oh, Christ, there it is. [loud thump and splat, breaking glass]
HST: It's too big too keep. You could keep a list forever.
PJ: Whoa, don't throw this out. This is an important drink, it's got alcohol in it.
HST: We have plenty of alcohol. Don't you remember?
PJ: Come to think of it we bought about $400 worth just hours ago and at least $200 of it is still left. Should we talk about New Journalism for a while or should we go over to George's house?
HST: Let's call George up.
PJ: Let's call up George and see if he's got any dynamite.
PJ: [cont.] . . .I don't think it's got anything to do with Gonzo or New Journalism or anything. I think its just has to do with the desire to be like, the story-teller in some fucking tribe — tell what actually happened . . .
[Tape drowned out by peacock shrieking]
PJ: [cont.] . . . . I didn't know peacocks could fly. They can hop up to a top of a tree like that?
HST: They go straight into the air like a helicopter.
PJ: They look like vultures up there. Like decorative vultures.
HST: Basically, they are vultures.
PJ: They look evil and foreign.
HST: They are evil and foreign, you know.
PJ: How did you happen to get interested in peacocks?
HST: I got crazed on mescaline one day and there were two of them offered for sale in the paper.
[Three full minutes of violent bird noise.]
HST: [shouting] HEY, GOD DAMN YOU! FUCK OFF! WHAT IS THIS!? [to PJ Jesus, Christ. you can't stop them. I could shoot them of course.
PJ: Are they good to eat?
HST: Yeah, they're wonderful to eat, great eating.
PJ: You tried?
HST: No, no. But, they're known to be a delicacy.
PJ: Maybe you've got one too many. You ought to cull the herd . . . [pause] Then we'd have to clean up the kitchen and get the oven ready. It would probably be more bother than it was worth.
HST: I got pissed off at the old lady one time for sitting on the eggs to long and just took 'em all and ate 'em. Scrambled 'em all — wonderful. Huge, organge eggs, big, rich, . . .elegant . . .
[Sound of people making fruitless search through bird pen]
PJ: . . . About the thing you've been doing all these years. To make some sense of nonsense., to make, as best we can confused and not entirely intelligent morals, some tiny element of sense out of the –to use your adjectives — twisted, brutal, savage, existence that we face. Is that a question? [Extensive drinking noises. Books being pulled from shelves. A lamp breaks.]
HST: Listen to this, man, Just listen to this!
PJ: Huh?
HST: [reading] [Note from Research: verses are from "In Memory of W.B. Yeats" by W.H. Auden]
Time that is intolerant,
Of the brave and innocent,
And indifferent in a week
To a beautiful physique.
Worships language and forgives
Everyone by who it lives;
Pardons cowardice, conceit,
Lays its honors at their feet.

In the nightmare of the dark
All the dogs of Europe bark,
And the living nations wait,
Each sequestered in its hate;

Follow, poet, follow right
To the bottom of the night,
With your unconstraining voice
Still persuade us to rejoice.

With a farming of a verse
Make a vineyard of the curse.
Sing of human unsuccess
In a rapture of distress;

In the deserts of the heart
Let the healing fountain start.
In the prison of his days
Teach the free man how to praise. 
PJ: Oh, Christ that's . . .
HST: If anybody ever wrote that about me, I'd feel I'd done my work.
-The End – Part 1–
Ruminator Magazine printed "In Memory of W.B. Yeats" with a photo of Dr. Thompson as a tribute to him in its April 2005 issue.