WITH ANDY HALL
This issue's "Conversations in the Kitchen" department of the Woody Creeker is pleased to introduce you to Andy Hall. He is a staple in the Woody Creek Community for more than 25 years. He's kept to himself a good part of the time, as Andy doesn't like big crowds of people. In fact, he doesn't even have a phone. But you can often find him with his friends at the Tavern, or in his trailer; though you'll find him happiest when he's hunting with his horse, out in the open country. He also has an interesting history with Hunter. Thanks to their friendship, Owl Farm boasts many enhancements, including garages, reinforced rooms, alarm systems, tunnels, and even a 980 pound shooting table that is built four feet into the ground. He is a good friend to have and we love him dearly. Her is an excerpt from a meandering conversation in the kitchen with Andy Hall.
---
The Woody Creeker: I want to ask about your history, like where you came from, how long you've been here.
Andy Hall: Well . . . I was born a poor black child. [Laughing] I was born on D-Day, 1944 in North Carolina — Fayetteville.
WCR: Fayetteville?
AH: My dad was in the Army. Then we moved some place on the East Coast, I think Attleboro, Massachusetts. Most of my family is from that area. I was raised there and in New Jersey. I just went into the service from there; I guess when I was about 18. I went to Boston.
AH: I went to Parrot Beach; I was in Parrot Beach for about a year. It is way south on the California coast; you can see the Mexican Bull Ring from there. I was working for a guy building bars and there was a big project in Denver, lower downtown. I went to work for him there. Then I started coming up here hunting. A girlfriend of mine lived up here. She worked for Snyder at the Ski Shop in Snowmass. Well, I left that job in Denver and came up here. This is where I would go hunting on the weekends. I do have a little heart valve problem and I'm tired all the time. They say I would be better at sea level. I say I'll be damned if I'm going to move to sea level.
WCR: Not with all those crowds of people.
AH: No, that is just too many.
WCR: So you would come up here on the weekends to visit your girlfriend. Was there a time that you remember that you decided that you were going 10 live here?
AH: Well, it was probably around '79 or ·so right about Christmas time. I think it was December '79. I moved in with Snyder at the ranch and I had a bunch of antique junk just from buying for him. Anything that I ever asked him for he would give to me.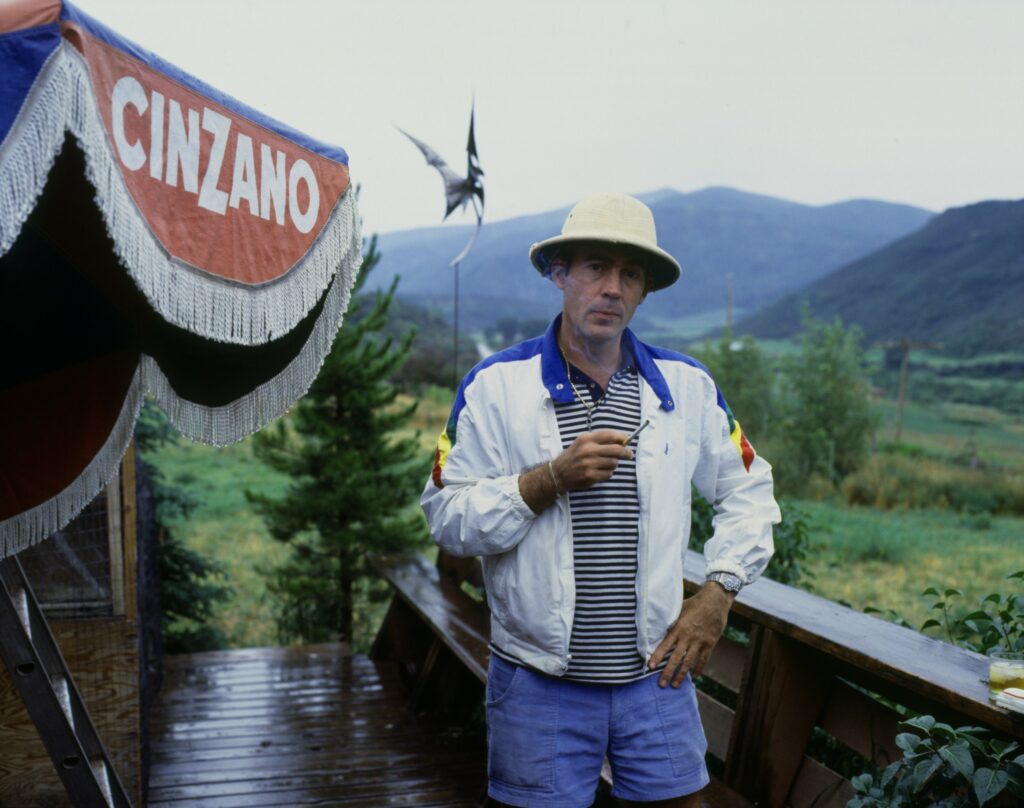 WCR: I know that if Hunter ever needed anything, he would call you.
AH: Hunter was kind of a junk collector too.
WCR: Oh yes, he sure was!
AH: He didn't mind if I went to the dump and got enough glass to build a peacock cage.
WCR: Exactly.
AH: I probably took all of two hours putting that glass in and it's been there for 15 years. I said, "Hunter, this is not a bullet proof situation. Just thought I would put
AH: I probably took all of two hours putting that glass in and it's been there for 15 years. I said, "Hunter, this is not a bullet proof situation. Just thought I would put them in and see if you like them. I'll frame them in." (Pointing to the windows that face the peacock cages). He shot all his windows out here. I was standing in his doorway and he went, "Bang-Bang-Bang-Bang-Bang."
WCR: He shot all the windows out?
AH: Well, he didn't shoot them out; the bullets went right through and left a bitching hole.
WCR: Why? Why did he do that?
AH: I don't know … [Laughing] said, "Hunter, they look so cool, we got to keep them. We got to put glass outside and glass inside."
WCR: Those windows are no longer there. Many people, at least in Woody Creek, consider you to be the author-ty on animal safety, such as handling bears. Do you have any tips on how to deal with bears here?
AH: Well first thing, don't leave your dog food on your porch. Bears love free meals. The Aspen bears have gotten to the point where they just come down the alleys and gorge because they know they can lift that top off. They all have the bear bars that go on there with a little pin through it so they can't open it. But a lot of people don't use them, and the bears will still come around even if they can't get in. They will just play with it; they will turn the thing over. They are big strong critters. Down here I've seen them right down the middle when the Tavern is closed.
WCR: Just walking around looking for food.
AH: As long as there are plenty of forest berries they eat fine. But in recent years they have come around more often and hit garbage cans.
WCR: Have you ever had a close call with a bear?
AH: I had one in my bedroom once.
WCR: Really?
AH: Yeah. Once he came in, he was eating the horse food: he was up on a shelf, he was up on his back legs and he shoved his head into the bag. I opened the door and right there was the bear. A black bear. Once he realized that someone was there he spun around but couldn't get out because the door hinge opened in. I just stood by the door because my inside door opened in and I thought he could come right through this door.
WCR: He heard you but he didn't actually see you?
AH: Well, he probably did, because he was stumbling around. . .Eventually he just made mincemeat out of the door and just crashed through it . . . It was like a glass panel door, but that didn't bother him. He just crashed right through it.
WCR: Have you seen changes in the environment over the years? In the last 25 years?
AH: When I moved here there didn't seem there were many beaver, coon. . . You know, back in the '40s they say there wasn't any beaver or coon in this valley. Well, there was one, and it was pregnant, because you can see what's happening now. They have infested. Nobody traps them anymore.
WCR: Do you really think we are infested with beaver right now?
AH: Well, there is a lot more than I've ever seen, same with the raccoons. We get them in the park a lot. They can't stand the sound of running water: they have to build a dam over it.
WCR: Really?
AH: Someone told me the story of a guy who put a speaker out in the field and the beavers were trying to build a dam over the speaker because it had the sound of running water. They wanted it stopped.
WCR: Interesting.
AH: They have six or eight kids every spring, usually. So it doesn't take long.
WCR: So beavers like peace and quiet.
AH: They are pretty peaceful animals too. They do create a nice habitat. I've caught a lot of nice trout out of these Beaver Ponds.
WCR: We have trout in Woody Creek?
AH: Oh, yeah.
WCR: I thought we had only mountain white fish?
AH: No, no. I used to catch them out of the ditch.
WCR: Out of the ditch?
AH: Yeah, he had a low spot right behind the house and in the fall when he shut the ditch off that low spot would stay. Every twelve months he would say, "I'm going to get this trout out of the ditch before the coons eat them."
WCR: So you hunt and fish then. l didn't realize you also fish.
AH: Well, I don't fish anymore. Fresh water fishing . . .I'm kind of hooked on nice white ocean meat fish.
WCR: So you have to buy it.
AH: I don 'I even buy it. I just. . .If I go fishing in Florida, then I get fished out.
WCR: So it doesn't compare
AH: Well. you just don't. .. Anything, like catfish has a little muddy taste to them because they're bug feeders. Freshwater fish have that kind of musty, earthy taste. Unless it's a white meat bass or something like that, big fish eat mostly other fish. But saltwater fish. . . The meat is nice and clean tasting.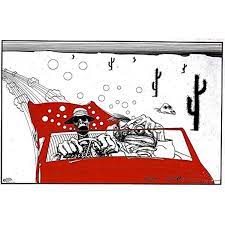 WCR: When did you meet Hunter?
AH: Well it wasn't long after I got here. Hunter. He was driving that red jeep, the red jeep that he blew up. We hit it off right away, started talking about guns and big glock pistols, and a buddy of mine and I were going to Denver to pick up some ammo or something and he talked us into buying him a big .454
WCR: .454??
AH: Yeah. . . it's like a firing cannon. Well, that is pretty powerful, that's .40 caliber. . . I think a 9mm is a .39 caliber. But .454 is a big, big round, it's cylinder but there's only five in there instead of size. So it actually just made the whole gun smaller.
WCR: More managable . . .
AH: And light. Nowadays it's all real light stuff. I've been packing a little .22 cylinder automatic target pistol, is all I really need. I mean I wouldn't want to shoot a bear and try and defend myself . . .
WCR: No, not with a .22
AH: Hunter and I had a lot of cool guns.
WCR: Along with your love of guns, you and Hunter liked to build. You have added many additions onto Owl Farm.
AH: Well. . . we started with the garage and then he wanted to do some building in here. This was different.
WCR: You were the one who built the famous shooting table on the shooting range.
AH: Oh yeah . . .
WCR: It's like built four feet into the ground.
AH: Well, Hunter wanted a heavy duty table and I thought, well, Jesus cHrist not only does it have to be Hunter-proofed it's got to be bullet proof. And tractor-proof, after he got the damned tractor. Things weren't safe around here after he got the tractor. I was afraid HUnter was going to hurt himself with it. The table wound up being logs and planks . . . I think I set it back far enough: he did wing it one day with the tractor. There is a big chip on it. One day he left me a note: "Now I have to go buy a chainsaw — what's this??? In my yard?"
WCR: He grew to love your shooting table very much and I don't think it's going anywhere for a long time. What do you miss most about Hunter?
AH: Well, somebody said right after he died that, "We don't feel safe anymore." There was something about HUnter that you knew that they weren't going to pull any strange weird shit in Woody Creek because they didn't want to go up against him. He was the first guy who would be there. He wasn't afraid to stick his neck out.
WCR: For example, the DEA — the first thing they did after HUnter dieed was start planning the raid in town at Little Annie's. First thing.
AH: That's too bad.
WCR: I agree.
AH: Well, we got a good Sheriff, we got a good country, and I basically get along with everybody.
— The End, Part 1–
.